Air It Up!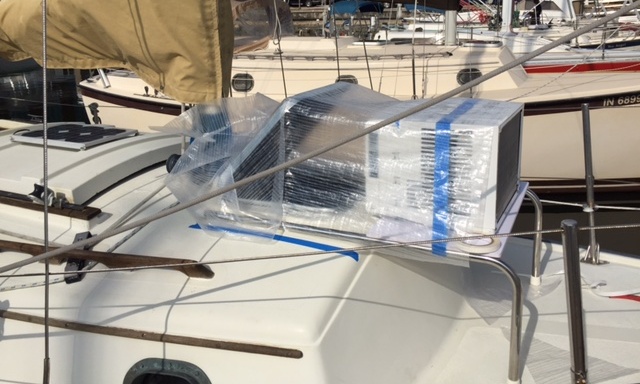 18 Helpful Tips to install air-conditioning on your boat
As a lad I once took flowers to a girl I fancied when visiting her in hospital. Her mother shook her head and immediately removed them from sight, just as the poor thing in bed started sniffling and sneezing. How was I to know that she suffered from hay fever?
I once accidently filled an almost empty 40 gallon diesel tank with water on a sailboat after a race. No fun for me that night, having to drain and dispose of that much stinky, milky water in the exclusive playground of Puerto Cervo, Sardinia. I blame the boatbuilder for not putting the filler in the wrong place.
Mistakes. We all make them. Some more than others ...
So, when contemplating the installation of an air conditioning system on a boat, it's well worth taking time in the planning stages to minimize the possibility of mistakes, because inevitably some will happen. Installing air conditioning on a boat as an after-market exercise is about the most invasive and disruptive thing you can do to your floating dream palace, and there are few short-cuts available when doing it correctly.
However, there are a number of logical steps you can take, and many potential pit-falls can be identified during the planning stages.
We can break down the process into three stages: Application – Installation – Operation
Application: Do you want it to be a meat locker down below at noon on a 100° day? Or do you just want a bit of cool, dehumidified air for sleeping at night? Hopefully not the former, as most boats couldn't support that, but if normal comfort levels are desired then most manufacturers publish guides to help pick what size air conditioning unit(s) is applicable. See our MarinAire guide. These are Compact or Self-Contained models, where everything is mounted on one base pan, including the compressor.
The largest of these types of units available for a 115v power supply are 16,000 Btu (nominal) models, as there are no compressors generally available with higher capacities for that voltage. There is the full range of Btu sizes in 240v, in addition to the larger 20,000 Btu and 24,000 Btu units.
The larger sized units can supply conditioned air to multiple cabins or areas via ductwork incorporating duct splitters, while smaller units of between 4,000 Btu and 11,000 Btu are typically employed in individual cabins. As a very general rule, a 16,000 Btu unit can adequately cool a vessel up to 35' -38', dependent on type and configuration, and anything 40' and up will require multiple units.
Don't be tempted to install a bigger unit than is recommended just because you have the space for it. If the system runs for too short a time getting cabin air down to temperature, it may not remove adequate amounts of humidity from the air. This will leave you with cool, clammy air, which is a decidedly unpleasant experience.
MarinAire units sense humidity as well as temperature, and the display can be set to control either, so there's a little more wiggle-room with these units.
Installation: There is so much to get wrong here, so let's break it down into quick bites.
Choose a location for the unit that is low down and where cabin air can be drawn in easily and unhindered.
Do not under any circumstances contemplate installing an air conditioning unit in an engine or generator space.
Ensure that you have adequate clearance around the unit for ductwork, water hoses, electrical box, etc.
Discharge grilles must be mounted high up, or at least able to direct air upwards to the cabin top.
Select discharge and return air grille sizes to meet the manufacturers minimum requirements. Under-sizing grilles and ducting will lead to units icing up and premature compressor failure. See the MarinAire guide.
There must be one, non-closeable grille that meets the minimum surface area discharge grille requirements.
Ducting must be of appropriate size and stretched to eliminate bunching. Use as few bends as possible.
Sea water pumps are of centrifugal design. They spin the water rather than pumping it using valves, so they give good flow but little pressure. These pumps are not self-priming and must be properly installed to give trouble-free service.
Centrifugal pumps must be mounted as far below the waterline as possible, and with the discharge port above the intake. See the MarinAire guide for appropriate pump sizing.
These pumps must use a dedicated, scoop-type thru-hull intake, with the scoop facing forwards. This will prevent water in the pump head from being sucked out when the vessel is moving, leaving the pump air-bound.
All intake hose runs must be in a gradual incline, from thru-hull to strainer, and from strainer to pump.
Hose runs from pump discharge, through the unit, and then overboard have no similar constraints.
Discharge thru-hull should be in the boot stripe. No higher, no lower.
Multiple air conditioning units can share one sea water pump with the addition of a Pump Relay.
Condensate drains are of the gravity type and terminate either in the bilge or a dedicated sump with pump-out.
Condensate drain hoses must incorporate a trap and have no rises and falls where pneumatic locks might occur.
Condensate drains must not terminate overboard through the hull.
Electrical wiring must be of the appropriate size corresponding to the manufacturer's specified breaker size.
Operation: There's not much to go wrong here. Make sure intake and discharge grilles are not obstructed, and that any items that may be around the air conditioning unit are clear of the air intake. Check the filter on the return air grille and clean if necessary, and the same goes for the sea water strainer. Adjust the set-point to a reasonable temperature, and for best performance set the fan speed to Automatic. Close all doors and hatches and keep them closed. You're conditioning your boat, not the marina.
Coastal Climate Control has 30 years experience of selling, installing, and troubleshooting marine air conditioning systems, and I've just about seen and done it all. We have much of what you'll need for your installation except my free labor!
No excuses now, eh? Don't make the mistake of dithering too long before diving in and getting air conditioning installed. One result of the Covid crisis is that increasing numbers of marine items are in short supply or have long lead times, in particular the air conditioning units themselves.
I'm still making mistakes, but I'm older and wiser now and somehow managing to get away with most of them!
By accepting you will be accessing a service provided by a third-party external to https://www.coastalclimatecontrol.com/