Solar Tax Credit and Your Boat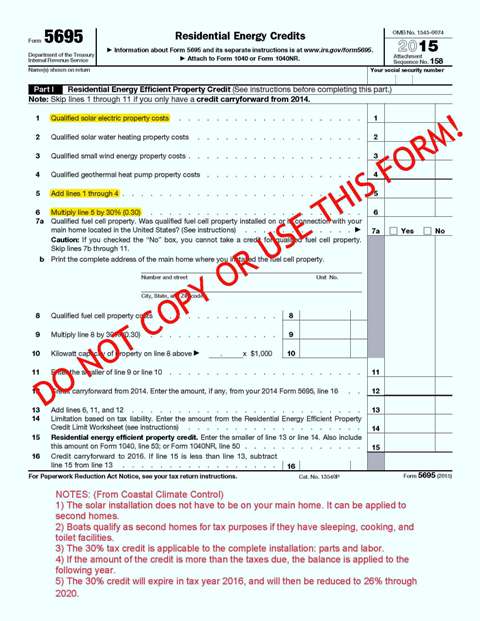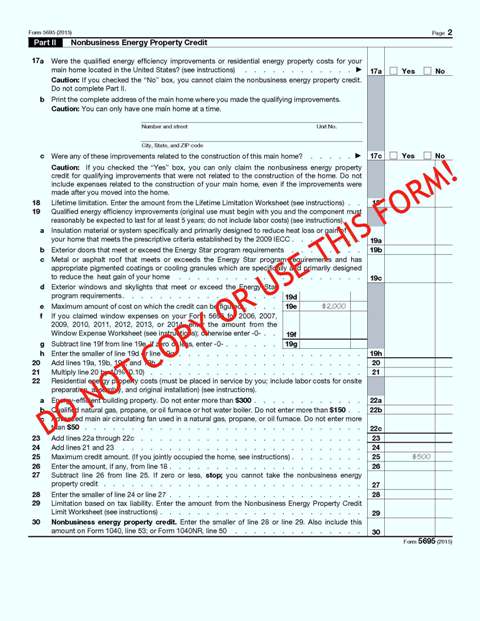 The US Federal Government offers a solar energy tax credit, applicable to your second home, i.e. your boat! As long as there is a head and galley onboard and it is docked in the United States, your vessel qualifies. This tax credit, extended to December 31, 2019, is a 30% credit on qualified expenditures to purchase and install solar panels, with no maximum limit for equipment placed in service after 2008. In the last few years, we hear at different boat shows the success stories from boat owners getting that 30% tax credit. This credit can be retroactive – as long as the solar system was placed into service after January 1, 2006.
Check out this updated link to the Dept of Energy's website that gives a simplified description of the energy tax credit: http://energy.gov/savings/residential-renewable-energy-tax-credit. Want to see how simple the actual IRS form is to fill out: http://www.irs.gov/pub/irs-pdf/f5695.pdf. Your state government may also have a solar tax credit. It may be worth investigating.
Life has become so much easier for so many people since they took advantage of this tax credit. If you want solar power on your boat, it may have just become more affordable. There is still time to plan and implement your solar power project, but I wouldn't suggest waiting too much longer – December 31, 2019 will be here before you know it! Contact us at www.CoastalClimateControl.com about your marine solar system.
A vacuum pump alone won't cure blockages in refrigerator systems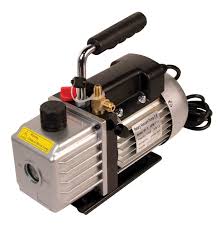 Unless other actions are also taken, using a vacuum pump to evacuate a R134a refrigeration system will almost certainly not result in a permanent resolution to particle or moisture blockages. This is true no matter how deep the vacuum or for how long the vacuum pump is run.

strong>Moisture issues - Back in the day, when refrigeration systems used good old ozone-gulping refrigerant R12 and mineral oil in the compressor, moisture could be removed from the entire system, including the oil, simply by hooking up a vacuum pump and taking the system down into a pretty deep vacuum. Any moisture would evaporate out of the oil at this low pressure, and find its way out of the system as a vapor via the vacuum pump. Skip forward to the present day, and we now use more environmentally friendly refrigerants such as R134a which requires a synthetic oil for the compressor.

The Danfoss/Secop BD 35 and BD 50 compressors are supplied filled with a polyolester (POE) oil, which is extremely hygroscopic i.e. it will grab hold of any passing spec of moisture and won't let it go easily. In fact, the oil forms a molecular bond with the moisture, and no matter how deep a vacuum is applied, or for how long, those pesky moisture molecules will remain trapped in the oil unless another element is brought into play, and that element is heat.
Read more: A vacuum pump alone won't cure blockages in refrigerator systems
12v air-conditioning-when cool is not hot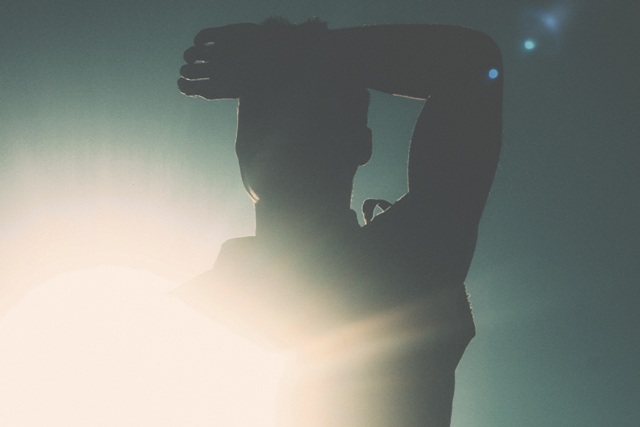 It seems that there's an ongoing quest in some circles for the holy grail of boating comfort: 12 volt air conditioning. Yet few seem to fully appreciate the benefits of the more practical, but far less complex and substantially less expensive alternative: 115v AC air conditioning powered by a DC source through an inverter. Many boats these days already have inverters installed, and if not, there's a wide range of inexpensive models available that are suitable for powering small air conditioners.

This post will focus on small air conditioning systems that are suitable for sleeping cabins or for small boat applications. With a small unit, the DC current draw is low enough that they can usually be powered by an engine alternator whenever the engine is running, as well as from the batteries when required. Of course, any sized air conditioner can be powered by batteries through an inverter, it is just a matter of practicality.

To better understand the differences between the two concepts, some comparisons are shown below between the Climma Compact 4,200 Btu 115v AC unit and the Dometic Cuddy II 3,500 Btu 12v DC model.
Subcategories