Firefly AGM Battery Testimonial - Nigel Calder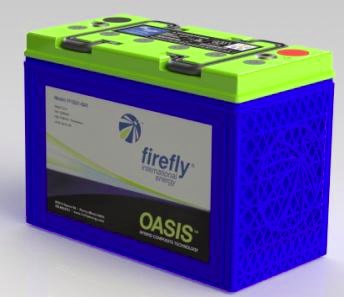 We now offer Firefly Oasis Group 31 battery with award-winning Firefly Microcell™ Technology with Carbon Foam plates to ensure longer battery life in deep discharge PSOC applications.

Nigel Calder tested this battery in real-world conditions. Here is what he thinks:
"In preliminary testing I worked the Firefly batteries hard in a real-world (onboard, while cruising off the west coast of Scotland) partial state of charge operation. The goal was to minimize engine run times and optimize electrical system performance in an 'off-the-grid' situation with limited recharging opportunities. The kind of operating regime I followed spells death for most lead-acid batteries. In contrast, after two months of intensive cycling, the Firefly batteries tested out with 100% of the capacity with which they started. These are encouraging results which, if substantiated over longer periods of time, represent a 'game changer' in terms of lead-acid technology and boat electrical systems design. I look forward to collecting more data."


Estimating Daily Power Output from Solar Panels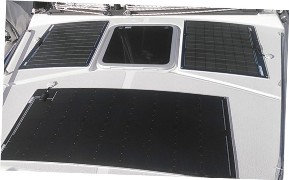 The published wattage rating of solar panels is determined by testing with a machine that flashes a light with an intensity of 1,000 watts per square meter on to the panel as if the sun were directly overhead. This flash test, performed under standard temperature and air quality conditions, gives a theoretical maximum power output that might be possible from that panel under the most ideal conditions.


This may sound like a cheap marketing ploy, but in fact is done from a safety aspect, as the cable and safety devices (fuses, breakers, etc.) must be sized in accordance with the maximum power that the panel(s) might produce, especially in multiple panel arrays. Typically, a panel will produce nowhere near its rated output in normal use, except maybe occasionally and then only very briefly. Considering the above, and the multitude of ever-changing conditions in a real deployment, it is not practical to simply use the wattage rating of a solar panel as an indicator of what power output to expect over the course of a complete solar day; i.e. from sun-up to sun-down. So how can we estimate what size panels, and how many, we might need to satisfy our daily amp/hour consumption?


First it is necessary to differentiate between the three most common types of silicon cells in general use.
Insist on only genuine, high-grade SunPower® back-contact solar cells
SunPower® back-contact solar cells are currently the highest efficiency cells available for use in everyday applications at 22%+ rated efficiency. But they can be expensive and difficult to purchase. Genuine high-grade SunPower® cells are only sold to prestigous manufacturers in a few select markets, and significant quantities, a minimum 10,000 cells at a time, must be purchased by the manufacturer to ensure a workable price for their customers.

It has recently come to light that some back-contact cells made by SunPower® have found their way on to secondary markets and into panels originating primarily in China. Rejected by SunPower®when they failed their rigoroustesting, these faulty cells cannot carry the prestigious SunPower® name due to their substandard quality. Unfortunatley, some promotional material we've seen brazenly disregards this fact.

Be wary of any solar panel with back-contact cells that does not explicitly make reference to the cells as being genuine, high-grade SunPower® cells.
Subcategories