Air conditioning on your boat - it's within reach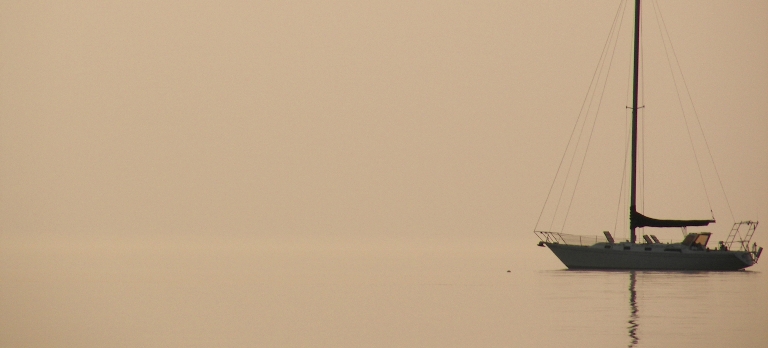 You want to go for an overnight boat adventure, but it's hot out there, even on the water. During the day, no problem, there is wind, a bimini, swimming to keep you cool, but at night, when you want to sleep, the thought of that hot, humid cabin can be a deal killer.

Solution: a small air conditioning system that is perfect for a sleeping cabin, to lower the cabin's humidity and temperature.
With a small 115v unit, the current draw is low enough that it can usually be powered by an engine alternator during the day when the engine is running and then from the batteries, through an inverter, at night. You may not need a generator, if you choose the right air conditioning unit.
There are also 12v air conditioning units available, but only one that is really worth looking at, and even then, the cost may make the venture unattainable.
To better understand the choices, let's compare two units:
Read more: Air conditioning on your boat - it's within reach
Defrosting Your Boat's Refrigerator, Again?!
Remember back when you had to defrost your home refrigerator every couple of weeks? It was a fact of life. And then those frost-free refrigerators came about. No more defrosting!!
So why have we seemingly gone backwards in evolution and are having to defrost our boat's refrigerator/freezer boxes so often? Why can't our boat's fridge be frost-free too, you ask as you drape your frozen food in towels to keep it safe as you patiently wait for the ice to melt from your evaporator plates.
Natural defrosting is the only safe method, although a small amount of addition heat is OK, say from a portable inspection light in the box. Those who are impatient might consider using a hair dryer or heat gun, hot water, or, (shudder), an ice pick, but these are not recommended, as high heat and physical force are very likely to cause nasty and highly undesirable side-effects.
And who gets the finger pointed at them as the culprit for this lack of frost-free living? Why, the refrigeration manufacturer of course, although after reading the following, you may shift the blame elsewhere.
Get Those Solar Panels Off My Boat!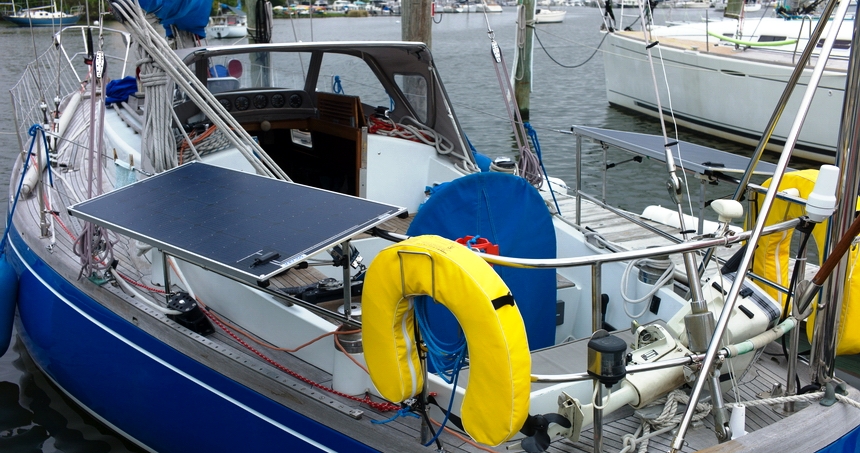 Mounting solar panels on hand rails around a boat's perimeter allows for some flexibility of use, plus the opportunity to angle the panels if you happen to be a dedicated twiddler with too much time on your hands. But when using standard aluminum-framed glass panels, necessity dictates that the clamps that secure the panel to the rail must be on the center-line lengthwise.

Glass panels are pretty heavy, and too much twisting and torsion will either "soften up" the aluminum frame or cause the glass to crack and/or shatter. Most panels of this type are designed to be installed on solid, permanent structures like roofs (specialized marine panels like the Solara Ultra series being an exception), and it is assumed that these land-based platforms will not heave, pitch, twist, or generally rock-and-roll (barring earthquakes) like a small/medium sized boat often does.

With this in mind, having a balanced mounting point is essential when using glass panels in rail-mount applications if regularly having to replace panels is to be avoided. But having a balanced mount, i.e. with the rail clamps on the center-line lengthwise, means that half of the panel's width will be intruding into the walkway, cockpit, etc. when deployed, and the wider the panel the more it will become an obstacle to movement.

Choosing a narrow panel is one way around this dilemma. Here's one way to do it:
Subcategories