Blog
Defrosting Your Boat's Refrigerator, Again?!
Details

Category: Refrigeration
Remember back when you had to defrost your home refrigerator every couple of weeks? It was a fact of life. And then those frost-free refrigerators came about. No more defrosting!!
So why have we seemingly gone backwards in evolution and are having to defrost our boat's refrigerator/freezer boxes so often? Why can't our boat's fridge be frost-free too, you ask as you drape your frozen food in towels to keep it safe as you patiently wait for the ice to melt from your evaporator plates.
Natural defrosting is the only safe method, although a small amount of addition heat is OK, say from a portable inspection light in the box. Those who are impatient might consider using a hair dryer or heat gun, hot water, or, (shudder), an ice pick, but these are not recommended, as high heat and physical force are very likely to cause nasty and highly undesirable side-effects.
And who gets the finger pointed at them as the culprit for this lack of frost-free living? Why, the refrigeration manufacturer of course, although after reading the following, you may shift the blame elsewhere.
Bending Instructions for Frigoboat's F-type evaporators
Details

Category: Refrigeration
(as found in Section 6 of the Frigoboat manual)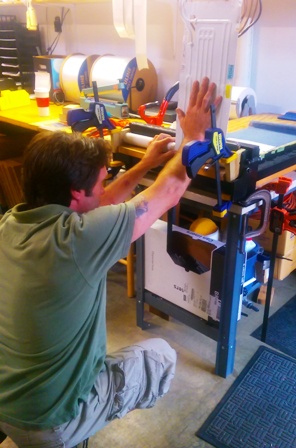 The F-type flat evaporators may be carefully bent on a minimum 1.5" radius to follow the shape of the icebox. This is best done by holding a section of suitably padded PVC pipe (with an outside diameter of 3.0" or greater) firmly down on the plate, and then carefully bending the section upwards with the palm of your hand.
The stainless steel plates need more force to bend and may require the assistance of a second person. This must be done slowly and with great care to avoid excessive kinking of the channels in the evaporator.
Never attempt to bend a plate downwards over a pipe, as damage may result.
In order to prevent the paint from cracking, the area to be bent should be warmed with a hair dryer or heat gun to approximately 200 degrees F before bending.
There are sections of the evaporator that must not be bent, and these are indicated on the specification sheet.
All F-type evaporators can be mounted with either side facing inwards, including the 380F which has one smooth side and one with channels. F-type plates with a stainless steel cover must be mounted with the stainless side facing inwards.
There ain't no app for that!
Details

Category: Refrigeration
Recently, a customer contacted us for some troubleshooting advice. He said that his refrigeration system was not working and the compressor not running. Apparently he had a technician look at the system who reported that he checked the refrigerant level and said it was OK.

Now that may sound like encouraging words from someone the owner perceived would know a heck of a lot more about refrigeration than himself, but it demands some investigation.

Just like the laws of physics there are laws of thermodynamics, but these are almost incomprehensible to the layman, and appear to most of us as gibberish and gobbledygook. Nothing so simple as "what goes up must come down" and "for every action ..." yada yada.

You'd think that with only four laws of thermodynamics things would be easy, but even the numbering of them seems deliberately designed to confuse. The last of the four laws is the Third Law. There no half-laws, the First Law is the second, and the Second Law the third. The wayward law is designated the Zeroth Law and comes before the first law. (This feels a bit like trying to explain the rules of cricket).

Hidden in those laws somewhere is the revelation that (in very simple terms): if a substance exists in an enclosed environment in both liquid and gaseous forms, the temperature and pressure are directly related. Let's call this the Law of Fridgernomics for ease of association.
Variable Speed Refrigeration and Air Conditioning Compressors
Details

Category: Refrigeration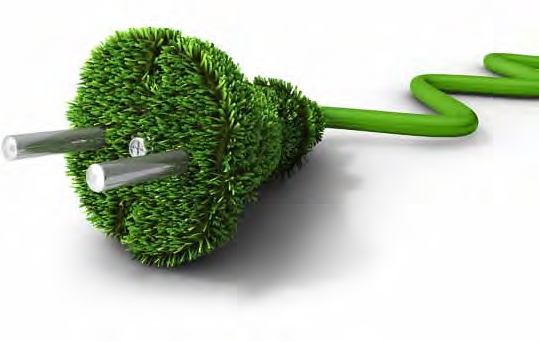 I recently had an air conditioning system replaced at my house. Out went the old energy hog with a noisy, fixed speed compressor, and in came a high efficiency unit with a quiet compressor and fan, both of which run at variable speeds. So, today's question is: Why does varying the compressor speed increase efficiency, and how is that achieved?


Golden Rule: The longer and slower a compressor can run, the more efficient it will be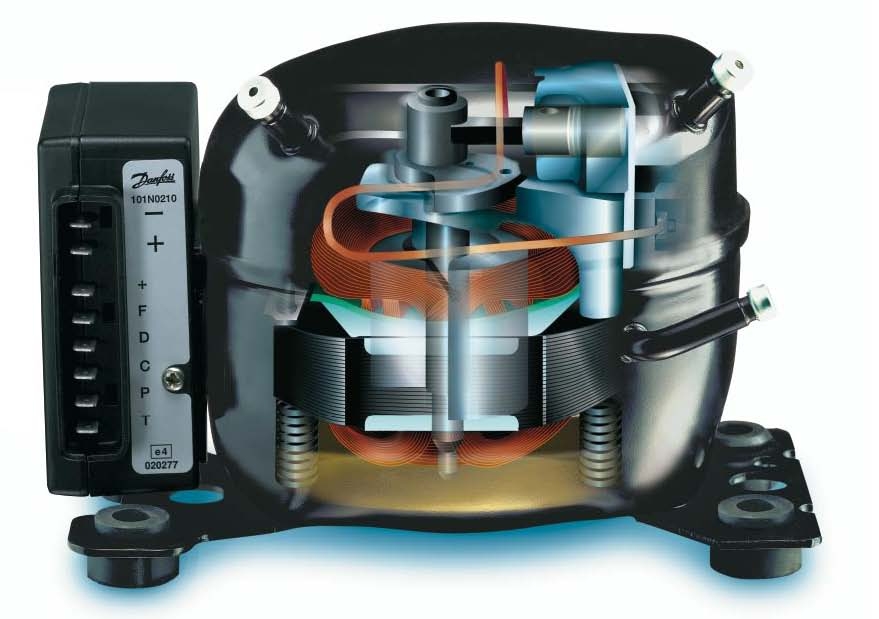 Efficiency in refrigeration and air conditioning systems is measured as a ratio of power out to power in, and can be in several forms. The Energy Efficiency Ratio (EER) is the ratio of output cooling energy in Btu's to input electrical energy in watts under certain fixed conditions. So a system with an EER rating of 10 will produce 10 Btu's of cooling for every watt of power consumed under the specified conditions. The Seasonal Energy Efficiency Ratio (SEER) that is used in commercial and residential equipment is similar to the EER, but is assessed over time and under varying conditions.
When a fixed speed compressor is operating under light-load conditions, i.e. nighttime, cool weather, etc., a fixed-speed compressor will be running for short spurts and do a lot of cooling in a hurry, which is inherently very inefficient. If we were to be able to slow the compressor down during periods of light load, the system would run longer and be more efficient overall, but would still have the required capacity available for high heat-load conditions.